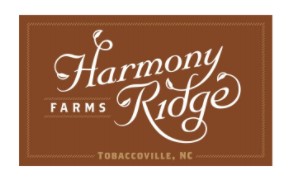 Harmony Ridge Farms 
Paid Internship 
Position: Farm Intern 
Job Status: Full-time and Part-time Positions Available 
Salary: $10/hour. Vegetables and eggs are free to employees (within reason), meats are discounted 
General Information 
We are a family farm in our twelfth year of production, and raise organic vegetables, blueberries, melons, eggs, pastured pork and Pekin duck. This is an opportunity to learn and work alongside a seasoned crew producing some of the best produce, meats and eggs in Tobaccoville, NC. 
The work will be centered around our produce operation, with opportunities to learn about animal husbandry if desired. The work includes: field preparation, cultivation, planting, harvest, preparing/packing produce for sale and distribution, greenhouse/hoophouse production, helping at farmer's markets, and other duties as assigned. 
Learning is completely on the job – engaging owner/managers with constructive questions is encouraged as time allows. Work schedule is generally Tuesdays through Saturdays. Duration of internship is TBD, and can turn into a full-time position for the right individual. 
Work Experience/Skills Desired 
This is a great opportunity to learn about organic farming for the right individual. The ideal candidate is a self-starter, listens to and follows directions, is physically fit and has a can-do attitude. We work outdoors in all conditions – candidate must be willing to work through sometimes challenging conditions to get the job done. 
Experience is preferred but not necessary – strong work ethic and good attitude are a must! The ideal candidate has a passion for gardening and/or team outdoor pursuits and maintains a willingness to work sometimes long hours. Candidate must be drug-free and interact with co-workers, managers and customers in a highly respectful manner. 
Apply 
If you'd like to join our team, we look forward to hearing from you! Please email resume and reference list with subject line "Internship Application" to: harmonyridgefarms@nullgmail.com